Cabin Leader Updates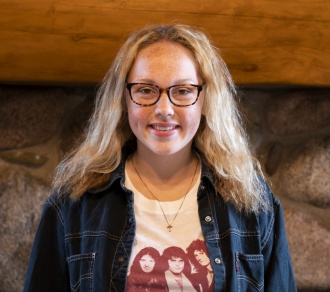 Hi! I am Goofy Goober. I am PUMPED to be your child's cabin leader this summer. I am from Champlin, Minnesota, and I will attend the University of Wisconsin in Milwaukee in the fall. I love theatre, singing, crafting, having fun with friends and family, working out, outdoor adventure activities, and sharing the love of Jesus with others. Again, I am so excited to have your daughter in my cabin; we are going to have so much fun trying new things, making new friends, playing games, and diving deep into the word of God. Rest assured, this is going to be the BEST WEEK EVER!
We had a fun first day going rock climbing, playing nuke 'em and gagaball, and eating our treats from the canteen. We are also having fun getting our hair braided and getting hair wraps from Goofy Goober and Anna (Our fabulous LIT), as well as making friendship bracelets in the time we get to spend hanging out together in the cabin. Today we learned the God looks at the heart, and we should not judge people by how they look but get to know them first to see them how God sees them. We are so excited to learn more about God through Bible X, chapel, Tag time, and the book of Ruth.
We enjoyed going to the beach yesterday (Tuesday) and trying out the blob and inflatable obsticle course. There was also abirthday girl in the cabin and we had lots of funcelebrating with a dance party! yesterday (Tuesday) we learned that God calls us to be dffernt from the world and to completely trust in Him so He can guide us into the best life we can live. We love Jen (the speaker) and how she has made the lessons of the Bible relatable in our lives, and we cannot wait for what else has to share throughout the week.
We had a blast playing Penny Pinchers last night! I know all the campers will remember the skits! Also, zipline was incredible! all of them went and all of them loved it! In chapel and cabin diffcussion he learned what it means to trust God!