District Blitz Goes to Camp!
(April 23–25, 2021 +more dates)
Sadly, District Blitz 2021 in Duluth is officially NOT happening... BUT we do have a solution. In anticipation of not being able to hold the event at the DECC, our team has been hard at work creating an alternative - DISTRICT BLITZ GOES TO CAMP! Although this is definitely not the District Blitz we are used to, it will be as close as we can make it here at Trout.


Leader Packet with Sample Schedule (download now).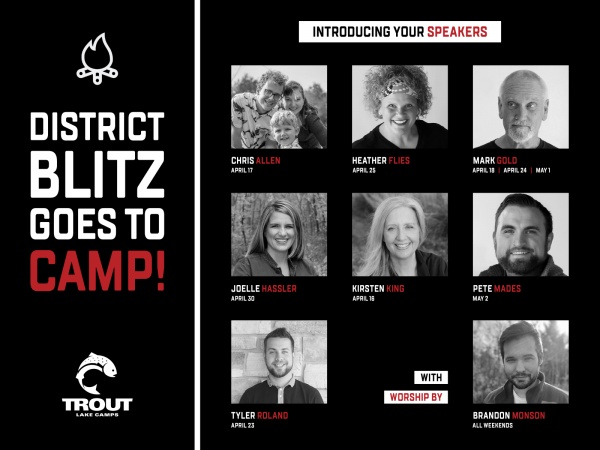 What We Are Working On / What to Expect


Here are the details as we have them right now, "DB goes to Camp" will take place at both Camp Shamineau and Trout Lake Camps. The event will be the same length as traditional Blitz, Friday to Sunday, and you will be able to choose which camp you would like to attend.

Cost will be set at $113 for campers and $70 for leaders.

We will provide speakers, a worship band, seminars on location, housing for your youth groups, food service, and awesome camp activities at ONE low price.

We are going to work hard to make this weekend feel as "District Blitz-y" as possible while also using our facilities to have as much fun as possible.

We are also working very hard to ensure that your youth groups get as much time as possible together - as that is a signature of DB.
We know that we have a lot of details to fill in, but your group can begin to register now.

We will offer three dates - opening the events in this order as they fill
April 23–25 (1)
April 30–May 2, (2)
April 16–18. (3)

As you can imagine Trout does not have room for 3,000 youth over 3 weekends, so please hurry to sign-up.

Space is available on a first-come, first-serve basis - first for the DB planned weekend - then Trout opening two other weekends.

We expect these weekends to fill quickly so don't wait to register. Also, please be sure to adjust your numbers as you know more who is coming to the event with your group. Our standard refund policies apply and are outlined in the Youth Leader Toolkit which you can download above. .
Future Dates
2022 Duluth April 8–10
2023 Duluth April 28–30
2024 Duluth April 19–21