Family Retreats
If you are looking for a get-away the whole family can enjoy, but can't spare a whole week, these retreats are for you.
Mother & Daughter Retreat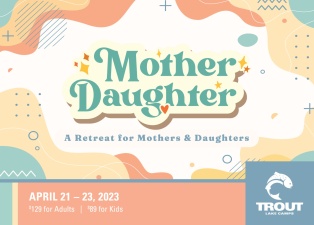 Date: April 21–23, 2023
Age: For girls in 1st–9th grade
Cost: $129 for Adults, $89 for kids
How many times have you thought – I need to spend more time with my daugher...just the two of us for a weekend? Girls' Getaway is for a mother or grandmother to bring their young girls to Trout. You will laugh together, have warm conversations around the fire and also have fun together. This weekend is about strengthening your relationship with your daughter or granddaughter and growing closer to God.
Highlights include: color war, fun chapel times, crafts, zip line, laser tag, climbing wall, a main speaker who will talk about what it means to be a Godly girl and more.
Speaker: Molly Sanborn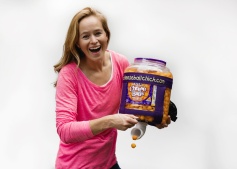 Molly Sanborn (aka The Cheese Ball Chick) is a proud wife, homeschool mom, speaker, author, adventurer, and lover of Jesus. Molly will make you laugh (and maybe even cry) as she shares practical, biblical, and comical applications to help you draw closer to each other and God. Learn more about Molly at www.cheeseballchick.com
Worship Leader: Melody Johnson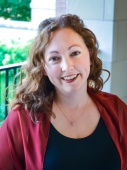 Melody is a professional singer as well as a voice & piano teacher and she is on faculty at the University of Northwestern St. Paul. As a member of Calvary Baptist Church in Roseville, MN, Melody often helps lead and plan worship for church. Melody grew up as a camper at Trout Lake Camps and later volunteered as a babysitter and as a co-cabin leader. Now, Melody and her husband Erik and three kids enjoy coming back to camp for work weekends, retreats and camps.
Labor Day Weekend Family Retreat
Our weekend family retreat is a four day experience similar to the week long Family Camps - but without the babysitters. Each of these retreats features great family chapel times, exciting camp activities and tasty home cooked style meals. This is a time that you, your spouse and kids will truly enjoy. These retreat weekends are great for families of all ages!

Date: Sept. 1–4, 2023
Registration for Family Camps & Retreats opens February 1
Father & Son Retreat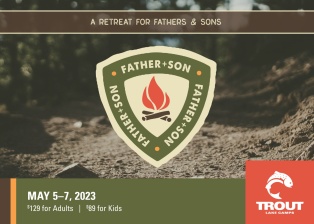 Date: May 5–7, 2023
Age: For boys in 1st–9th grade
Cost: $129 for Adults, $89 for kids
There's no more important man in a boy's life than his dad, and no more important gift than time well spent together. Man camp is designed for fathers or grandfathers and sons that want to have an adventure while creating memories that will last a lifetime. This weekend is all about strengthening your relationship, encouraging your son, and growing closer to God together.
Highlights include: cook out, chapel, archery tag, archery, trap shooting, riflery, zip line, laser tag, bonfire, and dad's time with the speaker to dive into what it means to raise up Godly boys.


Speaker: Jon Taylor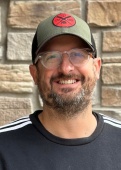 Jon is a Campus Pastor and a Regional Campus Director at Eagle Brook Church in MN. Jon and his wife Karla will be celebrating 21 years of marriage this summer. They have 3 kids, Charlie (14), Sydney (12) and Crosby (7). Christian camps have had a huge impact on his life and he's excited to be speaking at Trout

Worship Leader: Jason Peterson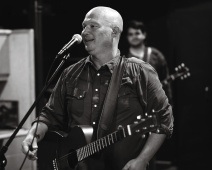 Jason and his family live in New Brighton Minnesota and have been big fans of Trout Lake Camps for many years. Jason has an MDiv from Bethel Seminary and is currently a worship and teaching pastor in Shoreview.