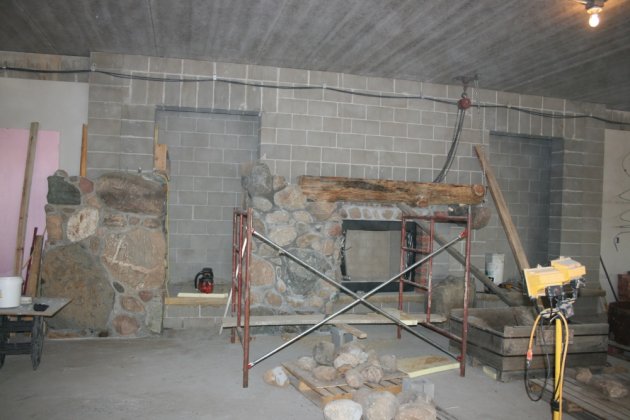 On October 25, 2011 we received an unsolicited phone call from a significant TLC donor who wanted to complete the $250,000 matching gift program. He simply said, "how much is remaining on the matching gift program because I would like to take care of that today." Wow, what perfect timing because his donation was 3 days before our annual meeting. This gift, along with outstanding pledges, provided the funds to complete the largest-ever Trout capital campaign.
In mid-November we received the matching gift of $250,000 which means we are very busy putting the final touches on the building. Volunteers and sub-contractors are working diligently to install carpet, finish the lower level and install kitchen equipment. There will still be landscaping that needs to be completed in the spring but the inside, barring any major setbacks, Stoneridge Dining Center should be operational by January 1, 2012.
The name Stoneridge was selected for three reasons. First, the camp Stoneridge is located on is called Timber Ridge and we wanted to associate the dining center with Timber Ridge. This association was completed by using the same word "ridge" in both names - Timber Ridge...Stoneridge. Second, if you have seen the location of Stoneridge you will notice that it sits on the highest point of Trout Lake Camps, which is the ridge at the top of the tubing hill. Therefore, geographically the word "ridge" makes sense when describing where the building is located. Lastly, the architectural design of the building contains significant stonework throughout the building. Therefore, once you walk inside the building you will immediately understand why we used the word "stone".
We are not planning a big "grand opening party" rather we are simply going to invite donors, volunteers, friends of Trout and our 2012 summer staffers, to a commissioning service and lunch on Saturday, June 16 beginning around 11am. This will be an informal time to give thanks to God for how he provided donors and volunteers to help build Stoneridge Dining Center and pray over our 2012 staffers as they begin their summer ministry. It will be a wonderful time of reflection and looking forward to summer time ministry. There is no need to register like our previous Buddy Check events. Simply come as you are and enjoy the commissioning service.
Lastly, our TLC staff is so thankful to the hundreds of donors and volunteers who helped make this project become a reality. We believe this ministry facility will be a place where great fireside chats happen, friendships are born and ultimately, lives will be changed. Praise God.
Photo: lower level fireplace