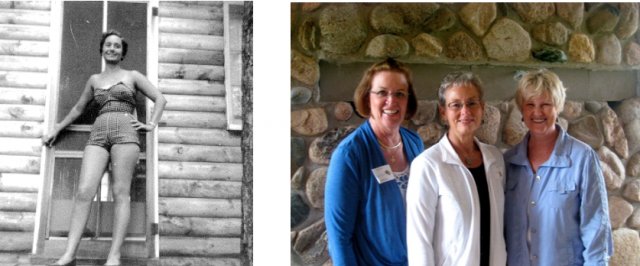 We are Looking for Ruthie. Can You Help Us Find Her?
We want to say "Thank You" and tell her the rest of the story. Included is a picture of Ruthie, summer of 1956, and the three gals of this story; Marilyn, Barb, and Linda, summer of 2011.
Marilyn Hanson Wallberg writes:
I was listening to the radio the other day and heard the song, "Thank You for Giving to the Lord," by Ray Boltz. I knew it was time to write the letter I have thought about writing for almost a year. I think our Lord delights in arranging the swirl of our lives to come together at times and in ways that amaze us. If we are fortunate enough to discover what He has done, we delight in Him right back.
Last summer, 2011, Trout Lake Camp invited campers, the Buddy Check, to the dedication of the new dining hall at Timber Ridge. My husband and I invited Barb Lee Erickson and her husband, Dennis, to our lake home to spend the night with us and then go to the event together. Barb and I grew up as friends and camping buddies from Central Baptist St. Paul. During our visiting on Friday night we reminisced about our wonderful years at Trout Lake Camp.
In comparing stories, we realized that we had both asked Jesus into our hearts at camp in 1956. Our counselor, Ruthie, led each of us to the Lord that same week. It might have even been on the same day.
At Timber Ridge on Saturday we sat at a new round table in the dining hall and were joined by Linda Paulson Wicklund and her husband Paul. Linda from Calvary St. Paul, was also one of our camping buddies. The girls from our two churches did many things together, including Trout Lake Camp. We again sat around the table and reminisced about our camping years and antics. We loved going to Trout Lake Camp and we had so much fun. Soon Linda shared how she wrote a letter to her grandchildren as they went off to Trout Lake Camp. She told them about the summer of 1956 when her counselor, Ruthie, led her to the Lord.
At this point Barb and I chortled with amazement and glee at this wonderful discovery. All three of us sitting together in 2011 had become Christians the same week, the summer of 1956 and our counselor, Ruthie, led each of us to the Lord.
Fifty-five years ago, a young counselor named Ruthie, gave at least one week of her summer to spend it with Junior girls at Trout Lake Bible Camp. Because she took her job of witnessing seriously, we each asked Jesus into our heart. What a discovery and what a delight. Today, we all are involved in ministry in one way or another and are actively sharing with others as Ruthie once shared with us.
To Ruthie: Thank you for giving to the Lord.
We are three lives that were changed. Thank you for giving to the Lord We are so glad you gave.
Submitted by: Marilyn Wallberg 14261 Fairway Lane Becker, MN 55308 763-262-8012