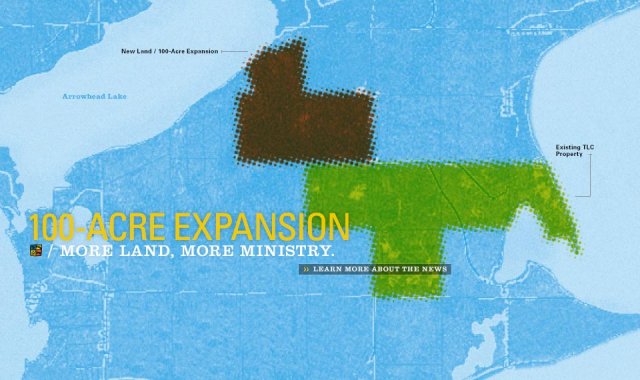 Dear Friends of Trout Lake Camps,
The days between Thanksgiving and Christmas are a time of thankfulness and we've got a lot to be thankful for here at Trout Lake Camps. We're finishing up an incredible year of ministry. God has impacted thousands of lives this year and it's thanks to your partnership—including financial support, volunteering and sending kids to Trout. Thank you!
It's because of this partnership that we want you to be the first to know about an exciting new development…
On Dec. 17, 2012, Trout Lake Camps closed on 100 acres of adjacent land. This densely wooded property includes a cabin and more than 500 feet of lakeshore along the Whitefish Chain of Lakes. We received more than $1 million in donations to completely cover this purchase, boosting Trout's footprint by 50% and keeping this ministry debt free.
We had been hoping to expand this 'meeting place with God'—but we didn't expect it to happen literally. This opportunity came together with a neighbor who appreciates the Trout mission of reaching kids for Jesus. God clearly orchestrated this sale, meeting an immediate need for intern housing with the cabin and providing room for God's ministry to grow in the future.
As we move into 2013 we will be finalizing our plans for this new space and other ministry needs. We can't wait to share this new direction with you and invite you to join us in our efforts to reach more people for Jesus. Those plans will include investing in the old part of camp, finishing the middle school camp Timber Ridge and—wait for it—launching a new camp on this new land to reach Trout's youngest campers.
We're excited about all that God is doing in our continued work to share God's love with the next generation. Please continue to pray for God's wisdom as we make long-term ministry decisions. Thank you for your vital partnership with Trout, and may God give you and your family a blessed Christmas.