Dear Trout Families,


The last six months have been a challenge for everyone, including here at Trout Lake Camps. But it's also been unbelievable. In the face of cancellations and closures, we took a massive step of faith and opened camp on July 5. Over 2,000 campers attended Trout and had the best week of their summer.
The pandemic didn't stop our mission to reach kids for Jesus.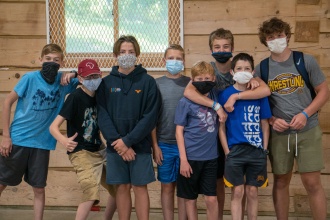 Summer campers having fun and staying safe together.
Here's what one camper parent said:
"I heard all about Trout for three hours straight on the way home today. My daughter had an incredible week. She was raving about everything, from the games to swimming, chapel, worship, night games, the food, her cabin leaders, the treats—the list goes on and on. Huge thanks to your team for creating a first-rate experience where kids can meet Jesus and grow in their faith while having a blast at the same time!"
Hundreds of summer staff and volunteers helped make the summer of 2020 epic:

• 165 campers said YES to Jesus for the first time.
• 256 campers said they want to renew their relationship with Jesus.
• 19 campers said they want to go into full-time ministry.

The ever-changing health guidelines and running a smaller, socially distanced camp made for an intense summer. But we made it: Our team responded remarkably, God provided funding so we didn't need to take on long-term loans, and best of all, we didn't have a single COVID-19 case among campers or staff.


Looking Ahead
Nobody knows what the future holds, especially with the ongoing pandemic. But we're hopeful for a return to normal in 2021 (or at least closer to normal). For Trout, that means reaching kids for Jesus. So we're planning to come back from COVID-19 literally bigger and better than ever before.
In 2021, we hope to open Wild Woods, our newest, 100-acre camp.
Wild Woods is an amazing new experience for first through third graders. We've been planning this for nearly a decade and are so excited to finally open it. We know Wild Woods will be another "meeting place with God" in the long history of Trout.
But as we look ahead to 2021, we need your help. Unlike a lot of ministries, we've survived the pandemic without laying off employees or taking on additional debt. But we managed that by burning through our rainy-day funds. 2020 is going to end in the red, there's no avoiding that. But we want to be able to start 2021 strong.
In order for Trout to run full throttle in 2021, we urgently need to refill the tank. Here are a few of the expenses we have to cover:

• Keeping all our current full-time employees.
• Paying the bills and maintaining our infrastructure.
• Providing camper scholarships so Trout is never out of reach for anyone.
• Final touches to Wild Woods that we couldn't complete this year due to the pandemic.


Here's What We Need
We're hoping to raise $550,000 so we can dive into ministry next year at full strength. That's a big ask, so we're going to need everyone to dig deep financially and give generously between now and the end of February. That's when our planning and promotion for the 2021 summer season will kick into high gear.
The great news is every dollar you donate is doubled. Several donors have come together to offer a dollar-for-dollar match up to $275,000. That's an incredible help.
Parents, if you love how God impacts your kids at Trout then consider making a plan to get involved. Grandparents, if you want generational impact for your grandkids, think about a legacy gift to Trout. Maybe you have never given to Trout in the past and now is the time to take that step of faith and participate.
Please consider how you can help us meet this goal:

• If you've never given to Trout before: Consider a first-time gift of
$100 between now and February 28 (that's 55 cents per day).
• If you normally give $100–$500 per year: Consider a special year-end
gift of double or triple that amount during November or December.
• Remember that camper fees don't cover 100% of the cost of camp,
so we've always relied on generous donations.

These are unprecedented times, but we can rise to meet the challenge.
Grateful for Your Support
I've been at Trout for over 15 years and we've faced our share of difficulties, but nothing like this pandemic season. Through it all, I'm grateful for the emails, comments, and prayers. I'm grateful for everyone who supports Trout and makes this ministry happen. Thank you.
On behalf of Jesus and the kids and teens who love Trout because of what God does in their lives, prayerfully consider how you can be involved.

Your friend at Trout,



Jon Wicklund
Executive Director