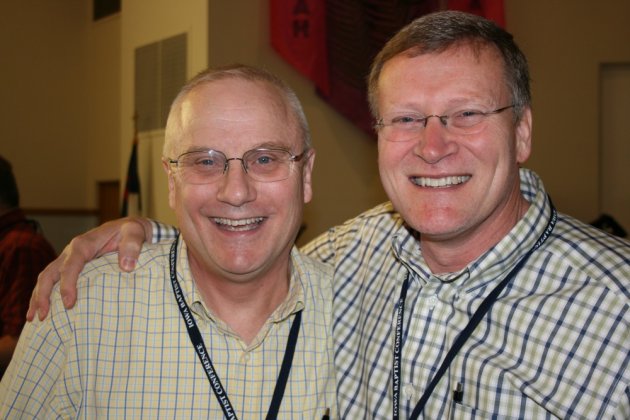 On May 2, the members of the Iowa Baptist Conference voted unanimously to move forward with the Minnesota Baptist Conference merger. Skip Hansen from Iowa and Dan Carlson from Minnesota (see photo above) are leading the charge in the merger. There are still several important steps and votes remaining to complete this merge but both Iowa and Minnesota seem to be favorable towards merging.
So, what does this mean for Trout Lake Camps? If the merge is complete in early 2010, then another camp called Pine Lake will become another ministry branch of Trout Lake. Our staff and their staff would become one and many cost savings would occur because of the new merger. Many other details would need to be addressed and we are beginning to make a list of "merging issues" that are specifically related to the two camps.
These are exciting days for Trout Lake Camps. We will keep you posted on the progress.