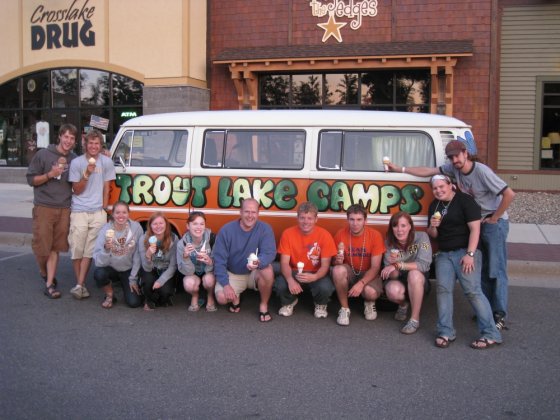 There is nothing like traveling back in time and riding in a 1974 VW Hippie Van. Several of our summer staffers decided to take the VW into Crosslake to get 2 for 1 ice cream cones at the Chocolate Ox. The van drove beautifully to the ice cream store and as we were pulling in, she (the VW) died right in the middle of our parking spot.
Needless to say, we purchased our 2 for 1 ice cream cones and enjoyed taking photos in front of the van. After 10 minutes of trying to get it started, Parker and Cory (mechanics from Duluth) helped us determine what the problem was with the van.
One hour later we were back on the road and heading back to camp. Thank you Cory and Parker...we never would have made it without you.