Go Trout! Go Royals!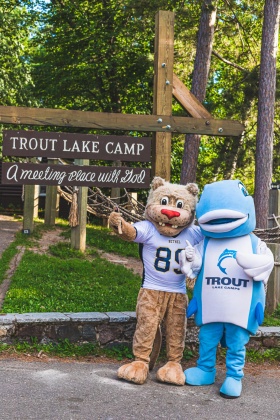 Trout Lake Camps and Bethel University are teaming up on Saturday, September 24 for the Bethel vs. St. John's football game. Wear your favorite Trout swag to the game and reconnect with Trout and Bethel alums. Cheer on Timmy the Trout vs. Roy the Lion during the halftime mascot race.
• Laptop raffle for BU students.
• Campus tour.
• Free T-shirts and gear (while supplies last).
• Inflatables for the kids.
• Free stadium meal coupon and game ticket.
Visit here to register for the campus tour and free stadium meal coupon.
Schedule:
• 11 a.m. - Campus tour.
• 12 p.m. - Stop by our tent for a stadium meal coupon, game ticket and free stuff.
• 1 p.m. - Kickoff.
• Halftime - Mascot race.
• 5 minutes after the end of the game - laptop raffle near inflatables – must be present to win (Benson Great Hall entrance).