COMMUNITY DAY
Saturday, February 27 | 9 a.m.–4 p.m. Time Slots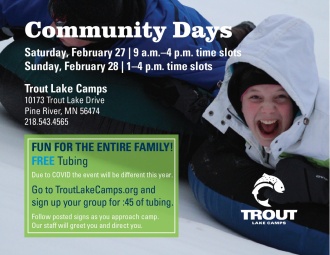 **Sunday options will be available if Saturday time slots fill up.**
Trout Lake Camps invites you to join us for a day of fun! Enjoy sliding down the tubing hill with your family and friends! This event is free and open to the public. Interested? Sign Up Today!

If you can no longer make it, please cancel your reservation so others can take your place, thanks!
Follow posted signs as you approach camp. Our staff will greet you and direct you.
Trout Lake Camps
10173 Trout Lake Drive
Pine River, MN 56474
Phone: 218.543.4565