Disciple Team
Junior and senior high students have the opportunity to be involved in an exciting summer ministry at Trout Lake Camps. Through the Disciple Team (Dteam) students have the opportunity to change the lives of both young and old. Students grow in their understanding of ministry and in their ability to reach out to those around them in relationships, family, school, church and community. If you have questions about the Dteam you can email our Disciple Team Coordinator at dteam@TroutCamps.org
Apply to be on the Disciple Team
Junior High
7th–8th Grade Students (current/completed)
Junior high students may apply for up to two weeks during the month of August. Junior High Dteam members play an important role in family ministry at Trout Lake Camps. They provide childcare services during family camps and are also involved in work projects during the week. Specific responsibilities include:
Baby-sitting for a camp family three hours each evening and for three hours at least one afternoon during the week.
Assisting at the beach, recreation shack, or boat docks in the afternoon.
Assisting with a certain age group or on special work projects each morning.
Senior High
9th–12th Grade Students (current/completed)
Our senior high Disciple Team members volunteer to work alongside college-aged summer staff. Typically taking on a different task each week, our crew members are assigned to the adventure, beach, boating, craft, food service, horsemanship, janitorial, office, program, rec. area, or video production departments.
Under the supervision of a college-aged cabin leader, Dteam members may also serve as student cabin leaders, ministering directly to campers.
10th–11th Grade Students (current/completed)
There is a big difference between being a Disciple Team member and a Disciple Staff member. Disciple Staff fill what is typically a full-time college-aged summer staff position. We are extremely selective in hiring Dstaff. These are the cream of the crop, mature, and trustworthy students. They attend full-time summer staff training and are paid $125.00 per week. Dstaff must be available all summer (June 1, 2020 –August 31, 2019, some exceptions may be possible on a limited basis) and participate in the overall Disciple Team and Disciple Series programs. There are no Disciple Staff Cabin Leader positions available.
Dteam members are part of the entire camp community. This means they eat, sleep, and laugh with other students like themselves. Students also pray together, discuss ministry-related issues and hold each other accountable to live a life of spiritual integrity. Students often develop some of their strongest friendships while at Trout Lake Camps because of the intense nature of the time spent together.
Disciple Team Retreat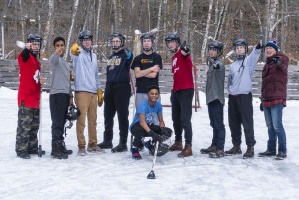 Date: January 3–5, 2020
Cost: $30 per person, Free for 2019 Alumni
Age: 7th–12th Grade

Join us at camp for a weekend tailored for Dteam members. Over the weekend we will have music and messages as well as time to enjoy the winter activities Trout has to offer - broomball, tubing, climbing, crate stacking and all the hot chocolate you can drink. Catch up with old friends and make some new ones. This retreat is open to any former Dteam member and anyone interested in joining the Dteam.

Transportation is available from the cities.
$15 one way or $30 round trip, you must indicate this on your registration.
Disciple Series
We want to help you learn to be an "original" follower of Jesus this summer. Maybe you can't be one of the first followers of Jesus- but you can follow Jesus in an original way here at camp, when you go back home, and for the rest of your life.
So how do we become a follower of this idea? We start by reading the Living Word of God- The Bible. From your first day of training, through as many weeks you are at camp, all the way back home, we want you to read, think about, memorize, and work through a good portion of Biblical text. (And hopefully not just this year- but for the next few years!)
In the Disciple Series, you'll have the opportunity to work through more then 31 books in the Bible and 7 very specific topics that will help you understand and work through your faith.
How to Apply
For all Dteam applicants we require an application as well as two references, one from their pastor and the other as a reference of choice. After submitting the application you will be emailed with the links to send to your references. You do need to send your references the link, it is not automatic. Links for References.
Disciple Team Training Retreats
Students are expected to attend one of the free Dteam training weekends at Trout May 1–3 or May 8–10. Throughout the summer, in-depth ministry training takes place through personal reflection and study, participation in the MinistrySafe Program, small group interaction, and group building experiences.