Men's Weekend
(Sept 13–15, 2019)
Grab some friends (or fly solo) and join us in the north woods at Trout Lake Camps – "a meeting place with God" since 1945. Step outside of the norm for a chance to dig deeper into your faith, connect with other guys and have a lot of fun. Breathe in the fresh air and see what God can do in just 40 hours. That scent in the air? Rest, renewal, rejuvenation (and grilled meat). More than a change of scenery, it's a change of spirit.
Registration opens in May
The cost ranges between $115–$140 depending on housing.
2018 Speaker: Vince Miller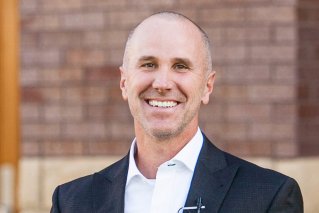 Vince Miller has worked in full-time ministry for 25 years with organizations like Young Life, InterVarsity, Fellowship of Christian Athletes and large churches like Eagle Brook Church. He has served in numerous roles in the church from Youth Pastor to Senior Interim Pastor. Vince founded Resolute in the Spring of 2014. Resolute exists to disciple and develop men to lead with conviction.
Highlights
Choose to spend time with men from your church, friends from around the state, or alone with God. There is a space for you to do what you need in this "Meeting Place with God."
The retreat begins at 5 pm on Friday evening. The first chapel session starts at 9 pm. At registration you will receive an information packet including a weekend schedule, list of recreation opportunities, seminar listings and church group locations.
The Saturday steak fry is an important part of Men's Weekend and it is always a highlight. Grill your own steak to perfection and be the envy of every guy who burns his to a crisp. Come prepared for tasty home cooked food and plenty of it.
Seminars will be offered at 11 am on Saturday. Many of them will be repeated in the afternoon and these seminars offer an opportunity to discuss topics like marriage or discipleship in a small group setting.
Motorcycle and Antique Car Roll-In
If you are interested in riding up to Trout together, here is a link with our itinerary and more details on how to sign up.
Typical Schedule
Friday
5:00 pm - Registration Begins
7:00 pm - Potato Bar
9:00 pm - Opening General Session
10:30 pm - Late Night Snack
Saturday
7:30 am - Breakfast
9:00 am - General Session
11:00 am - Recreation & Seminars
12:30 pm - Lunch
1:15 pm - Recreation & Seminars
5:00 pm - Steak Fry
6:45 pm - General Session
9:30 pm - Refreshments
10:00 pm - Campfire
Sunday
7:30 am - Breakfast
8:30 am - Sharing
10:00 am - Closing General Session
11:30 am - Lunch
2018 Seminars Available
Jared Gustafson - Being a Godly Father
Jared is a father and husband who has a passion for Jesus. His desire to lead his family to a healthy relationship with Christ is contagious. He is full of insight on Godly living and how that is displayed in the home.
Dale Berry - Preparing and Sharing the Gospel in the Workplace
One of the most difficult things to do is share your faith in Jesus at work. This is normal and also a challenge for many of us. During this seminar we will discuss social, legal and fear barriers that happen to everyone who shares the gospel at work.
Bob Swanson - Enjoy The Grounds of TLC
Bob was the first person to live year-round at Trout and has a deep knowledge of the surrounding ecology. Come hear legendary Trout stories and walk away with a deep appreciation for God's creative and complex creation. God's creation continues to amaze us in its beauty. We often pass by without noticing some of the "little things" of life. As we tour His creation, we will hope to notice those "little things" and how God has provided for each of His creatures.
Bob Swanson - Pontoon Boat Tour of Trout
A little biology/ecololgy and a bit of Trout Lake history as it relates to the lake. Stories, personal anecdotes of a year-round life at Trout Lake in the past. Only 14 passengers per trip.
Derrick Skoglund - Why Should We Care About Israel
We will look at some of the modern issues surrounding the status of Israel's borders, especially in light of political events over the past century and recent days. We will consider what various scriptures say concerning the matter.
Derrick Skoglund - Living Between Two Gardens
What do the Garden of Eden and Paradise have to teach us about living a life of faith today? What is to be discovered as we consider how Jesus lived between the Garden of Gethsemane and the Garden Tomb.
Derrick Skoglund - Do You Remember the Sabbath and How on Earth Do You Keep it Holy? Generally speaking only 9 of the 10 commandments are of any real consequence to most Christians. The concept of the Sabbath has been an issue long overlooked by 21st century Western believers. So what is the Sabbath and do the scriptures really say anything about Gentile or New Testament believers observing and keeping the Sabbath? Since Yeshua and the apostles kept the Sabbath, there must be some things we can learn and probably integrate into our lives that will be a blessing to our families, community and in our personal relationship with God.