Men's Weekend
(Sept 14–16, 2018)
Grab some friends (or fly solo) and join us in the north woods at Trout Lake Camps – "a meeting place with God" since 1945. Step outside of the norm for a chance to dig deeper into your faith, connect with other guys and have a lot of fun. Breathe in the fresh air and see what God can do in just 40 hours. That scent in the air? Rest, renewal, rejuvenation (and grilled meat). More than a change of scenery, it's a change of spirit.
The cost ranges between $115–$140 depending on housing.
Speaker: Vince Miller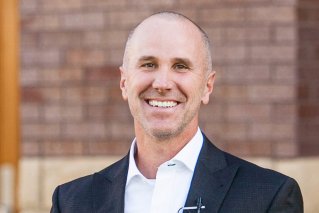 Vince Miller has worked in full-time ministry for 25 years with organizations like Young Life, InterVarsity, Fellowship of Christian Athletes and large churches like Eagle Brook Church. He has served in numerous roles in the church from Youth Pastor to Senior Interim Pastor. Vince founded Resolute in the Spring of 2014. Resolute exists to disciple and develop men to lead with conviction.
Highlights
Choose to spend time with men from your church, friends from around the state, or alone with God. There is a space for you to do what you need in this "Meeting Place with God."
The retreat begins at 5 pm on Friday evening. The first chapel session starts at 9 pm. At registration you will receive an information packet including a weekend schedule, list of recreation opportunities, seminar listings and church group locations.
The Saturday steak fry is an important part of Men's Weekend and it is always a highlight. Grill your own steak to perfection and be the envy of every guy who burns his to a crisp. Come prepared for tasty home cooked food and plenty of it.
Seminars will be offered at 11 am on Saturday. Many of them will be repeated in the afternoon and these seminars offer an opportunity to discuss topics like marriage or discipleship in a small group setting.
Typical Schedule
Friday
5:00 pm - Registration Begins
7:00 pm - Potato Bar
9:00 pm - Opening General Session
10:30 pm - Late Night Snack
Saturday
7:30 am - Breakfast
9:00 am - General Session
11:00 am - Recreation & Seminars
12:30 pm - Lunch
1:15 pm - Recreation & Seminars
5:00 pm - Steak Fry
6:45 pm - General Session
9:30 pm - Refreshments
10:00 pm - Campfire
Sunday
7:30 am - Breakfast
8:30 am - Sharing
10:00 am - Closing General Session
11:30 am - Lunch